Description
Name : Elpidoforos Chrysovergis
Goal : London to Athens by bicycle
Charity : Floga Parents Association of Children with Cancer
More info : www.dreamtravelive.com
There is nothing better in life when you combine sports, traveling and volunteering..
And in this concept, the Wheeling2help project was born :)
Since I am already working in the UK, the plan is to cross Europe from London to Athens by bicycle raising money for children with cancer of the "Floga" organization in Greece. I am not a professional cyclist but I truly believe that if you really want something, you will definitely make it!
So, on the 5th of September, I will be cycling :
From London to Athens
England – France – Belgium – Luxembourg – Germany – Switzerland – Italy – Greece
8 countries
35 days
2,500 km
wheeling to spread the love and compassion to all the children with cancer.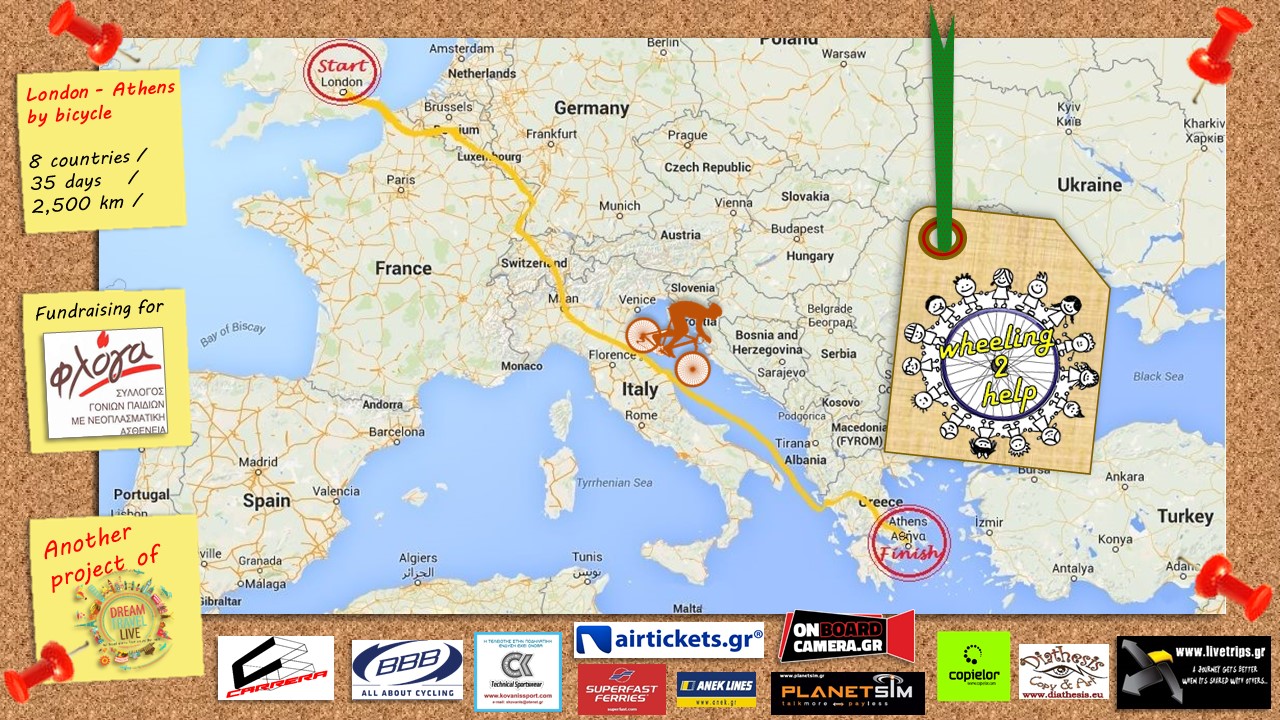 The exact route will be announced soon, but the initial plan is through Eurovelo 5:
Day 1 : London to Maidstone – 77 km
Day 2 : Maidstone to Dover – 70 km
Ferry Dover to Calais
Day 3 : Calais to Lille – 126 km
Day 4 : Lille to Brussels – 121 km
Day 5 : Brussels to Namur – 66 km
Day 6 : Namur to Libramont – 98 km
Day 7 : Libramont to Luxemburg city – 82 km
Day 8 : Luxemburg city to Saarbrucken – 100 km
Day 9 : Saarbrucken to Ingwiller – 71 km
Day 10 : Ingwiller to Strasburg – 56 km
Day 11 : Strasburg to Colmar – 85 km
Day 12 : Colmar to Basel – 83 km
Day 13 : Basel to Lucerne – 83 km
Day 14 : Lucerne to Schattdorf – 84 km
Day 15 : Fluelen to Andermatt – 43 km
Day 16 : Andermatt to Bellinzona – 89 km
Day 17 : Bellinzona to Como – 93 km
Day 18 : Como to Milan – 75 km
Day 19 : Milan to Piacenza – 114 km
Day 20 : Piacenza to Parma – 55 km
Day 21 : Parma to Modena – 47 km
Day 22 : Modena to Bologna – 67 km
Day 23 : Bologna to Forli – 72 km
Day 24 : Forli to Rimini – 51 km
Day 25 : Rimini to Senigalia – 78 km
Day 26 : Senigalia to Ancona – 47 km
Day 27 : Ferry Ancona to Igoumenitsa
Day 28 : Igoumenitsa to Ioannina – 98 km
Day 29 : Ioannina to Metsovo – 65 km
Day 30 : Metsovo to Trikala – 101 km
Day 31 : Trikala to Domokos – 82 km
Day 32 : Domokos to Lamia – 45 km
Day 33 : Lamia to Livanates – 78 km
Day 34 : Livanates to Dilesi – 108 km
Day 35 : Dilesi to Athens – 96 km
The expenses of the trip are minimal and I will cover them myself, actually it is just the food, as there is no transportation costs (hehe) and with regards to accommodation, I will arrange to be hosted by locals in every stop through couchsurfing and warmshowers.
The goal is to inspire people and companies to be on board for this project and help us raise 10,000 euro for these little angels and heros that fight every day to beat cancer.
During my stops in the Greek cities, I will organize various cycling, volunteering and sport events in collaboration with the municipalities and regional clubs, any help and ideas are more than welcome!
TAKE YOUR BICYCLES AND JOIN ME PEOPLEEEEE!
I want to shout out loud and invite all of you to join in any part of this trip, it will be an unforgettable experience for an amazing cause.
COME ON GUYS, even for a few kilometres, I would be super happy :)
Don't hesitate to contact me and ask for more information.
During this amazing trip, I will be updating you via :
Feel free to reach me via :
email : el.chrysovergis@gmail.com
facebook : elpis chrysovergis
skype : trelokomos
A Few things about us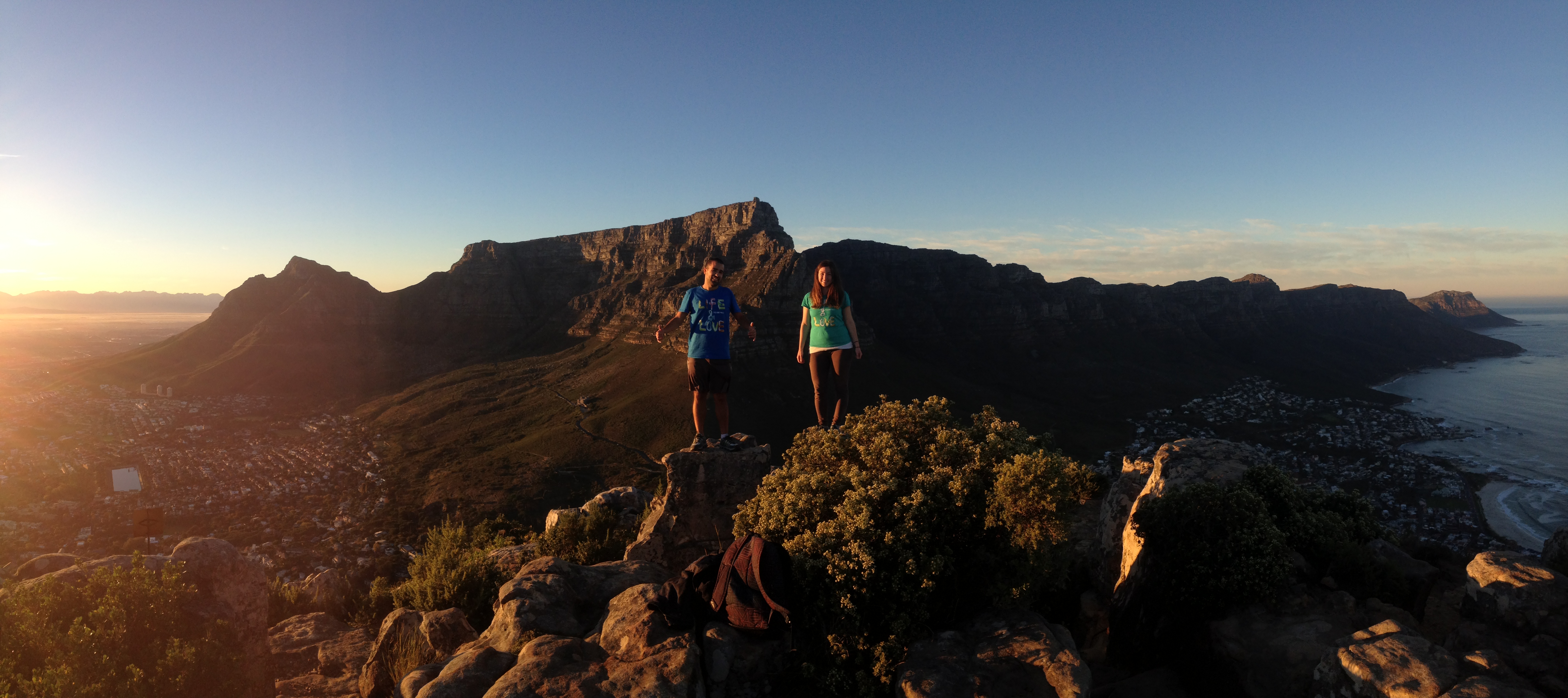 We are Elpis and Dora, a young passionate crazy couple from Greece that want to inspire our life with new things we see, live and experience in this wonderful planet! We love traveling, cycling and exploring new cultures, traditions, getting to know new people and trying to have as many unique experiences as possible!
After a few backpacking trips in Europe, Asia and Africa, the time has come to explore Europe by bicycle and raise awareness for children's cancer. This time Dora, will have some rest, and will join me during the Greek part of the journey.
Few months ago, we crossed Africa from Cape Town to Cairo in 6 months with our tent and backpack using only public transport (more than 350 buses, minibuses, etc). At the same time, we managed to raise about $20,000 via 3 crowdfunding campaigns and helped orphanages, dispensaries, a school that we built, even a water well that gave access to safe drinking water to more than 1,200 people.
We filmed all this amazing experience in a beautiful documentary ''AfriQuest : Crossing Africa giving 3,000 smiles'', which you can watch here, https://www.youtube.com/watch?v=l9rU-MWhbcM .
If you believe in Karma or if you just feel excited about the whole idea and you would like to support this beautiful cause, you are in the right place :)
Other Ways You Can Help
Well, money is not everything in life, we kindly ask also for:
Accomodation - maybe you know someone that could host me in one of the cities that I will pass.
Tips - any relevant information is always useful (about cycling routes, preparation, nutrition, anything)!
Company - you are more than welcome to join us for a part of the trip!
Become an ambassador - help us reach the tough goal of 10,000 euro.
Spread the campaign - pick up your phone and call now your grandparents, they always have some money aside :P
Please use giveandfund share tools to your social media and make #Wheeling2help project as big as it can get :)
And that's all there is to it!
Thank you sooooo much beautiful people and don't forget,