Description

Events to highlight historic remembrance in Lemnos, 20-21 April.
Come with us to celebrate the 101 anniversary of the Gallipoli Campaign and the ANZAC history and to highlight the position of Lemnos, in this global historical happening
Lemnos regional unit with the Association The Lemnos' Friends of ANZAC
www.friendsofanzac.com
Εκδηλώσεις για την ανάδειξη ιστορικής μνήμης στην Λήμνο, 20-21 Απριλίου.
Ελάτε μαζί, να γιορτάσουμε τα 101 χρόνια από την απόβαση στην Καλλίπολη και να αναδείξουμε τη θέση της Λήμνου ,σε αυτό το παγκόσμιο ιστορικό δρώμενο
Περιφερειακή ενότητα Λήμνου μαζί με τον Σύλλογο The Lemnos' Friends of ANZAC
www.friendsofanzac.com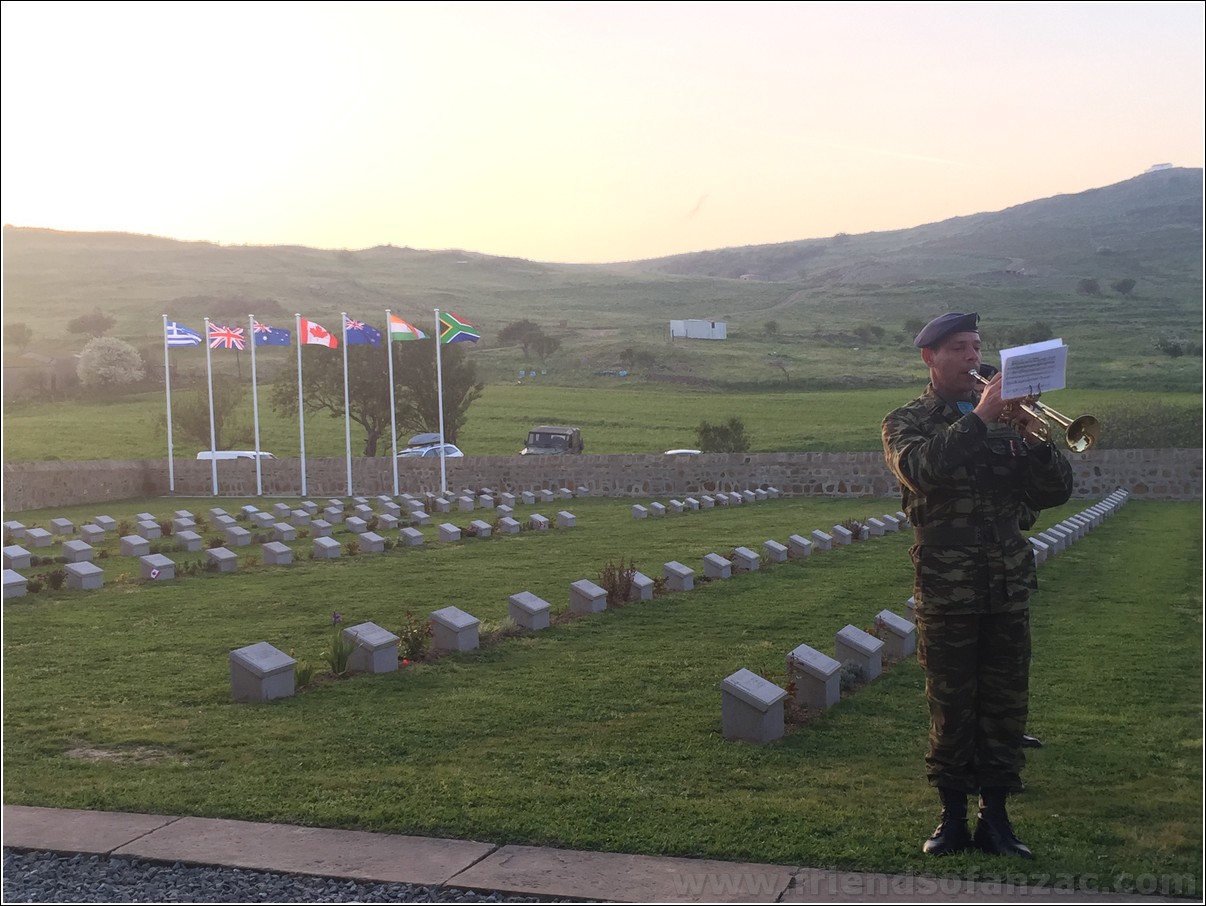 Official Schedule of Events
"Commemoration activities for the Fallen in the Gallipoli Campaign"
April 20th and 21st , 2016
Events calendar
April 20th , 2016- Portianou Village
Events in Portianou
17.00 Start of the «RUN FOR PEACE" race, which co organized with the Lemnos Athletic Team (Route: East Mudros Commonwealth War Cemetery - Portianou Commonwealth War Cemetery, 18,500m)
17.15 End of official turnout ( Place: the honorary memorial of Brigadier Stephen Saunders, ANZAC Str.)
17.20 Wreath Laying service from the North Aegean prefecture in the area of the official honorary memorial of Brigadier Stephen Saunders
Portianou Commonwealth War Cemetery
17.45 Memorial Service
18.00 Remembrance Ceremony and the fallen heroes' call, to all those dead soldiers, nurses and assistants that participated at the Gallipoli Campaign and laid their bodies at the Lemnian soil. In cooperation with the Commonwealth War Grave Commission, the Athens War Museum, and 'The Lemnos' Friends of ANZAC " Association .
18.15 Wreath Laying service
18.30 Greetings from The Greek State Officials
18.30 Start of the "RUN FOR PEACE" race under the name "WE PARTICIPATE" which at this part is a symbolic race for the disabled team of the Lemnos Athletic Team. ( Route: Palaio Pedino Village-Portianou Village, 1000 m)
Tour in the cemetery
PORTIANOU CULTURAL CENTER
Termination of the "RUN FOR PEACE" race and awards for the winners and all the volunteers
19.00 Exhibition of photographic material from archives, specialized in WWI.
19.10 The official commencement of the international survey that was proposed at the World congress "WW1 in the Mediterranean-ANZAC and the role of Lemnos", by the Australian Archaeological Institution of Sydney, and which will be carried out in cooperation with various International and Greek institutions and universities. This will be the guide to help us comprehend the times which the Gallipoli Campaign took place, thus leading to a better understanding of the specific role played by each of the participating allies in Lemnos and Greece, as well. ( Co organized with the Lemnos Friends of ANZAC" Association)
Thursday April 21st ,2016- Mudros
Events in Mudros
Mudros Cultural Center
10.15 Salutation from the President of the Mudros Cultural Association.
10.30 Exhibition of photographic materials and memorabilia of the 1915 period.
11.00 Detailed presentation of the International project: "Lemnos through the last 100 years - Facing the next 100 years of history". The presentation will be given by Professors of the Greek academic community who are already coordinating with international educational institutions with the main intention being, to activate the international community so that the mistakes of the past become a better guiding light for a more peaceful future. ( Co organized with the Lemnos Friends of ANZAC" Association).
Port of Mudros
12.00 Grand opening of the newly established Historical and Nautical tradition. information center, from the Lemnos Municipality.
Wreath laying service at the Mudros commemorative plaque on the port (Optional).
Commonwealth War Cemetery of East Mudros
17.30 End of official turnout.
17.35 Memorial Service.
17.50 Wreath laying Service.
18.00 Greetings from Mrs Christianna Kalogirou, Head of the North Aegean Prefecture.
18.10 Greetings form Mr. Dimitrios Marinakis, Mayor of Lemnos.
18.20 Greetings of the representatives of the countries involved.
18.30 Greetings from the Athens War Museum representative.
18.45 Rhythms and tunes of the WW1 period ( Performed by Lemnian artists).
19.07 Army trumpet salute.
Tour in the cemetery.
During the days of the events
A) The Mudros Cultural Center , the Portianou Cultural Center and Portianou Traditional and Folklore Museum will be continuously open for the public
B) The Museums, archaeological sites, will also be open for visitors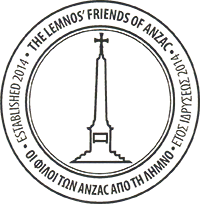 About us
Dear Friends of Hellenic History and not only,
The "Lemnos' Friends of ANZAC" Association established on 2014 and based in Lemnos island. Its main goals are:
To highlight the role of Lemnos in the WW1 and especially in the Gallipoli Campaign (1915)
To promote this historical event of Gallipoli Campaign as the starting point of the Greek modern history
To promote the continuity of antiquity data from the historical island of Lemnos, who never have taken the actual position and recognition in the history of our country.
A deeper knowledge, dissemination and promotion of the historical role and contribution of ANZAC and its members at the several paths of Hellenic modern history (A and B World War) and the progress of this role in our modern life.
The relationship developed with all countries participating in the Gallipoli campaign (United Kingdom, Canada, France, Turkey, Russia, India, Egypt, USA and of course Australia and New Zealand) and the cultural impact of those on Limnos and the whole Greece, as well.
To conduct the centenary of the Signing of the Armistice of Moudros (1918-2018), with the necessary brilliance in Moudros, and to highlight the contribution of Greece in World War I.
The Association is working very close with the Greek State. Most of the events that we have created are under the auspices of HE The President of the Hellenic Democracy, Mr Prokopios Pavlopoulos and many of the Greek ministries (the Ministry of Culture, Ministry of Tourism, Ministry of Maritime Affair and Insular policy, as well as "The Greek Tourism Organization"(EOT), the Ministry of Hellenic Rural Development and Food, the Ministry of Development-General Secretariat for Research and Technology, the North Aegean Region ). The role that our Association plays in the Greek State, is historical, educational and cultural as well as creating a new way of development for the country.
We would like to invite all of you to participate in the national plan that we are working. We have plan for the next 3 years as first stage (2016-2018), a great list of events, all around the world and in Greece as well. We ll be more than happy to explain to you what exactly we do and why your assistance is so important.
We strongly believe that we are working on a project that gives to our country, a good push in this tough times that we are going through. A geopolitical and historical list of events are waiting for you, to be part of these.
With best regards
For the Lemnos 'Friends of ANZAC" Association
Stelios A .Mantzaris
President of the Board